AROUND 500 people attended a protest outside a church at Galgorm which received millions of pounds in donations from Wrightbus.
One of the pastors at Green Pastures Church is Jeff Wright, who was the largest shareholder at Wrightbus.
9am on a Sunday morning in Ballymena and hundreds of Wrightbus workers are gathering outside Green Pastures Church to protest. pic.twitter.com/4tPZIHD1FA

— Mark Simpson (@BBCMarkSimpson) September 29, 2019
In recent years, the company donated £15m to the church, which is located close to the Wrightbus factory.
About 1,200 people lost their jobs when the firm was placed into administration.
The protesters began arriving outside the church at 9am and within half an hour more than 200 had arrived, many carrying placards, the BBC reported.
It was estimated there were around 500 protesters.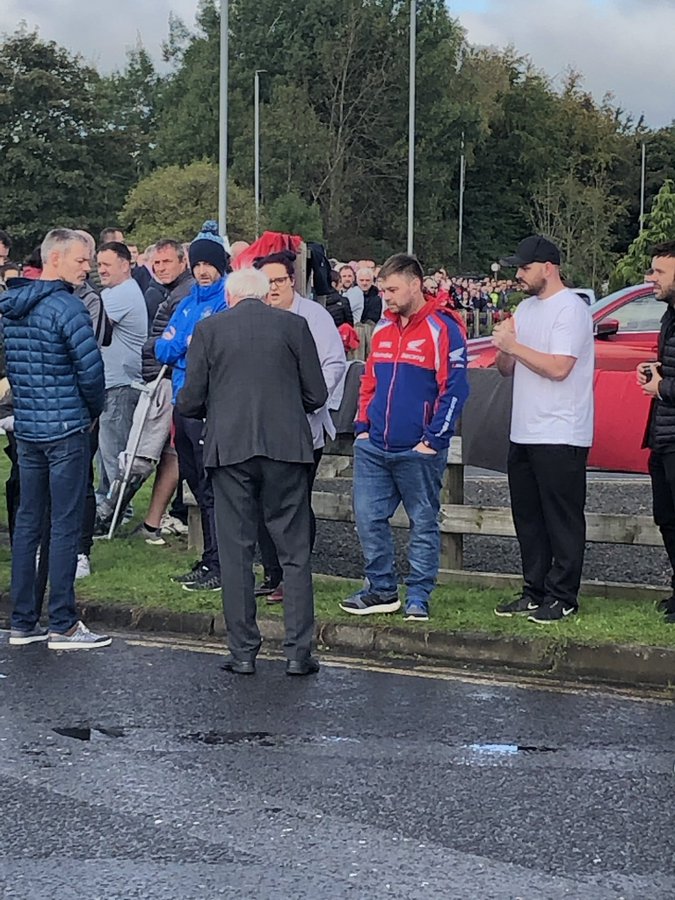 Many protesters draped their old Wrightbus work shirts on fences.
The protesters said they wanted answers about what happened to Wrightbus and why millions of pounds was donated in recent years to the Green Pastures Church.
One said they wanted what had happened to the firm "out in the open".
Another said: "Look at the men here, there are young people, there are families. All of these men have rent, there are mortgages to pay, and we might not get any redundancy for another ten weeks.
"What's these men going to do?"
Wrightbus founder, Sir William Wright, stopped to speak to some of the protesters on his way into the church and was applauded by many in the crowd.
Protestors have made it clear they do not blame co-founder of Wrightbus, 92yo William Wright, for firm's collapse. He was warmly applauded as he arrived at Church. pic.twitter.com/oPGUGgk9No

— Mark Simpson (@BBCMarkSimpson) September 29, 2019
The BBC reported that during a sermon  to a congregration of around 700, Jeff Wright prayed for the workers who were protesting.
BBC reporter Mark Simpson said that inside the Church, lead pastor Jeff Wright, got a standing ovation.
Mark Simpson tweeted: 'The former director of Wrightbus was tearful.
He defended his recent public silence. "I'm not going to jeopardise the future just so that I can look good," he said.'
Mr Simpson told BBC Radio Ulster the media were invited inside the church but they were not allowed to record the sermon either for TV or radio.
The reporter said during the sermon Jeff Wright said he himself was not perfect that he had faults and he had many failings but had defended not only his handling of recent events but his failure to say very much publicly.
Mark Simpson said Jeff Wright said he was doing his best to save the jobs and one way that he could help was by saying nothing.
The reporter said Jeff Wright refused all requests for interviews.
The Green Pastures Facebook page said on Sunday the service was not being livestreamed.
Police were on duty inside and outside the church but the protests were peaceful.
On Friday, Green Pastures had issued a statement which said: 'As any church would be, we are devastated by the huge number of job losses at the Wright group and we are especially heartbroken because of the impact this will have on so many individuals and families in our local towns and communities.
'We understand the hurt, anger and confusion felt by so many, as many within our own congregation have been personally affected by these job losses and we are doing all we can to support them at this time.
'As with any donation we receive as a church, we are incredibly grateful for the support the Wright family have offered us. They, along with many others, chose to be generous when their family business enabled them to do so.
'The leadership, staff and people of Green Pastures Church will continue to love and serve people in our community in and through these challenging times.'